Hokage
Talk

275
5,672pages on
this wiki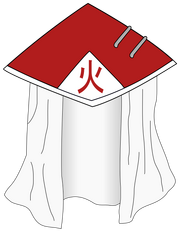 The Hokage (火影; Literally meaning "Fire Shadow") are the leaders of Konohagakure. They are generally acknowledged as the strongest in the village, although ideology and renown plays a large part in their being chosen for the position. Four shinobi and one kunoichi have gained this title so far, with another shinobi gaining the title of Hokage Candidate.
Overview
Generally, the new Hokage is selected by the current Hokage upon their retirement, but if the old Hokage dies or is incapacitated before being able to do so, the Fire Daimyō will appoint a Hokage Candidate, if he does not have chosen, upon the recommendation of the Konoha council and the Fire Daimyō council. Afterwards, the candidate will need to be approved by the jōnin of the village to become officially Hokage.
After being approved, they move into the Hokage Residence to live in and have their faces carved out in the monument behind it. If the former Hokage is still alive, they will generally keep helping out, making the transition easier and more stable. The Hokage carry their title for life, even after retiring from active duty. The Hokage's office is located in the administrative section of the Academy.
List of Hokage
First Hokage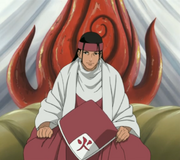 Main article: Hashirama Senju Hashirama Senju (千手柱間, Senju Hashirama) was Konohagakure's First Hokage (初代火影, Shodai Hokage; Literally meaning "First or Founding Fire Shadow") and a reincarnation of Asura Ōtsutsuki. He was famous in life as the God of Shinobi (忍の神, Shinobi no Kami; English TV "The Supreme Shinobi") for his unmatched ninja prowess. Despite that, Hashirama only wanted peace, and to that end founded Konoha with his childhood friend and rival Madara Uchiha. Although he was not able to achieve peace during his lifetime, his legacy would live on, continuing to shape the village for decades after his death.
Second Hokage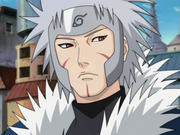 Main article: Tobirama Senju Tobirama Senju (千手扉間, Senju Tobirama) was the Second Hokage (二代目火影, Nidaime Hokage; Literally meaning "Second Fire Shadow") of Konohagakure. He hails from the Senju clan, who, along with the Uchiha clan, founded the first shinobi village. Tobirama would also become the leader of his own team. Prior to inheriting the position of Hokage, he served as his brother's advisor, assisting him with political and social measures.
Third Hokage
Main article: Hiruzen Sarutobi Hiruzen Sarutobi (猿飛ヒルゼン, Sarutobi Hiruzen) was the Third Hokage (三代目火影, Sandaime Hokage; Literally meaning "Third Fire Shadow") of Konohagakure. A disciple of the village's previous Hokage, Hiruzen was a powerful ninja, hailed as a God of Shinobi (忍の神, Shinobi no Kami; English TV "The Supreme Shinobi"). Though he was only ever directly the teacher of the Sannin, generations of Konoha ninja benefited from his wisdom during his lifetime.
Fourth Hokage
Main article: Minato Namikaze Minato Namikaze (波風ミナト, Namikaze Minato) was the Fourth Hokage (四代目火影, Yondaime Hokage; Literally meaning "Fourth Fire Shadow") of Konohagakure. He was famous in life for his speed, leading to the moniker of Konoha's Yellow Flash (木ノ葉の黄色い閃光, Konoha no Kiiroi Senkō; English TV "Yellow Flash of the Leaf"). He died during the Nine-Tails' attack on Konoha, sacrificing his life to seal a part of the Nine-Tails into his newborn son, Naruto Uzumaki.
Fifth Hokage
Main article: Tsunade Tsunade (綱手, Tsunade) is one of Konohagakure's legendary Sannin. Though celebrated as the world's most powerful kunoichi[1] and its greatest medical-nin,[2] Tsunade abandoned the life of the ninja for many years in pursuit of other goals. She is eventually persuaded to return to Konoha and becomes its Fifth Hokage (五代目火影, Godaime Hokage; Literally meaning "Fifth Fire Shadow"), where she uses her strength to repress the village's enemies and her medical knowledge to keep its villagers safe. Eventually, she steps down and hands over the position to Kakashi Hatake.
Sixth Hokage Candidate
Main article: Danzō Shimura Danzō Shimura (志村ダンゾウ, Shimura Danzō) was an elder of Konohagakure. As the founder and leader of Root, Danzō gained notoriety as The Darkness of the Shinobi (忍の闇, Shinobi no Yami; English TV "The Shinobi of Darkness")[3] because of his frequent unsanctioned actions and his often-suspected (but rarely proven) undermining of specific Konoha personnel. Despite his decades of suspicious deeds, Danzō only ever acted in what he believed were the village's best interests, a loyalty that secured his appointment as Sixth Hokage Candidate (六代目火影候補, Rokudaime Hokage Kōho; Literally meaning "Sixth Fire Shadow Candidate") just before his death.
Trivia
References
↑ Naruto chapter 172, page 7
↑ Naruto chapter 577, pages 1-2
↑ Naruto chapter 459, page 1
↑ Naruto chapter 520, page 11
↑ Naruto chapter 618, pages 13-17
↑ Naruto chapter 94, page 7
↑

First Databook, pages 117 and 265

↑ Naruto chapter 94, page 12
↑ Naruto chapter 140, page 3
↑ Naruto chapter 367, pages 9-10
↑ Naruto chapter 450, page 15
↑ Naruto chapter 488, page 14
↑ Naruto chapter 488, pages 15-16
↑ Naruto chapter 328, page 8
↑ Naruto chapter 121, pages 6-7
↑ Naruto chapter 366, page 12
↑ Naruto chapter 140, page 10
↑ Naruto chapter 450, page 14