This is a shared help page embedded here from Wikia Central. It may include advice not relevant to this wiki, some of the tips may not work correctly, and it may give advice for policies which are not the ones used by this wiki (please read through our policies for the actual rules on this wiki).
Page protection is the ability to limit who can edit a page. Administrators have the ability to both protect and unprotect pages should the need arise.
Uses
The majority of pages on a wikia should remain unprotected to encourage all users to participate.
Places where you may want to use protection may include:
Protecting frequently vandalised pages, such as the main page on busy communities.
Protecting community policies that have been set in stone.
Templates containing complex code or are necessary for a particular wiki.
Temporary protection might be used for:
Enforcing a "cool down" period to stop an edit war, upon request.
Protecting a page or image that has been a recent target of persistent vandalism.
Protection levels
There are four protection levels admins can use when protecting a page.
Semi-protection: protection of a page against editing by an unregistered or non-autoconfirmed user.
Full protection: protection of a page against editing by a non-admin.
Cascading protection: protection of a page from editing by a non-admin, as well as any other pages on the wikia linked to on the page.
Move protection: protection of a page against moving by a non-admin.
Step by step
Protecting pages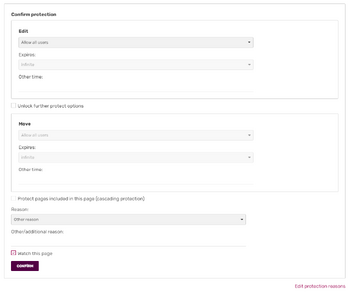 To protect a page, photo, template, click on the arrow on the "Edit" button next to the title to produce a dropdown menu. Then click "Protect".
On the protection page that then appears, you can set the desired protection level.
You may want the page move protection to be set at a different level than the editing protection. By default, they match. To set a different level, select the check box in the "Move" section, then choose which protection level you would like.
To set cascading protection, click the check box next to "Protect pages included in this page (cascading protection)"
Select a default reason for protection in the dropdown menu, or add in your own reason in the box below.
Click "Confirm" to save your changes.
Unprotect
To unprotect or change the protection for a specific page, use the Edit button dropdown to visit the protection page for it.
Remove or alter the protection options.
Click "Confirm" to save your changes.
Cascading Protection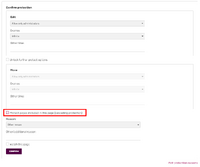 Cascading protection is a form of page protection which allows you to protect a page so that all templates and images on the page will also be protected without needing to protect them individually. When a template is vandalized, especially on a page which uses many templates, it may not be immediately obvious which page/template needs to be fixed, prolonging the amount of time that the page remains vandalized.
To use cascading protection, just click the "protect" link as usual; cascade protect is there among normal protection options. The protection level must be "sysop" in order to activate cascading protection; it will not work at the "autoconfirmed" level, which only affects new and unregistered users.
This feature should not be abused to lock every article on a wikia and prevent them being edited, simply through the inclusion of a template on the pages affected.
Advice
Do not make the common mistake of protecting pages unnecessarily.
Do not protect a page you are involved in an edit dispute over. Admin powers are not editor privileges - admins should only act as servants to the user community at large.
Temporarily protected pages should not be left protected for very long.
Talk pages and user talk pages should not be protected except in extreme circumstances.
On a wiki where it is required to have an account in order to edit, be aware that semi-protected pages may not be useful. A majority of the editors on that wiki are likely to already have reached autoconfirmed status.
Do not make the mistake of enabling cascading protection on important templates, such as infoboxes or maintenance tags. If this setting is applied to such templates, the pages in which they are used will inherit the protection settings you have applied, which could result in many articles suddenly becoming uneditable by the majority of your community.
Next pages
Further help and feedback