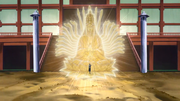 The Gift of the Hermit Group (仙族の才, Senzoku no Sai, English TV: Gift of the Sages) is a special kind of chakra used by the ninja monks of the Fire Temple. It requires daily, unrelenting training to master. This chakra is required to unseal the Sealed Iron Wall granting access to the Fire Temple. It is also required for the technique Welcoming Approach: Thousand-Armed Murder.
Ad blocker interference detected!
Wikia is a free-to-use site that makes money from advertising. We have a modified experience for viewers using ad blockers

Wikia is not accessible if you've made further modifications. Remove the custom ad blocker rule(s) and the page will load as expected.