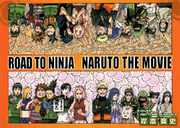 In Road to Ninja: Naruto the Movie, the Genjutsu World (幻術世界, Genjutsu Sekai)[1] is an alternate world accessed Tobi when he casts his Limited Tsukuyomi (限定月読, Gentei Tsukuyomi) on Naruto Uzumaki and Sakura Haruno and traps them in a crystal ball which hosts the dimension in an attempt to capture Kurama. The illusion is a prototype of the Infinite Tsukuyomi and was influenced by both Naruto's deep desire to have parents and Sakura's desire for freedom from parental control. Their desires, in turn, create a scenario where Minato Namikaze, who never became Fourth Hokage, and Kushina Uzumaki are alive and Sakura's parents, Kizashi and Mebuki Haruno, died defending the village.
In the Naruto: Shippūden anime, this parallel dimension is first introduced when Madara Uchiha casts the Infinite Tsukuyomi.
Tobi explains that the illusion was originally an exact replica of the real world, but distortions were created when Naruto and Sakura were inserted into it, similar to the ripples created when a stone breaks the water's surface. This alternate Konohagakure is threatened by a mysterious S-rank criminal and missing-nin referred to as the Masked Man, revealed to be receiving guidance from Tobi projecting himself in the genjutsu as the spirit of "Madara"; though Tobi knows everything about the Genjutsu World, he is unable to control it directly. After facing a variety of trials, Naruto and Sakura eventually free Menma from Tobi's control and break free of the Limited Tsukuyomi thanks to Naruto's restored memory as a result of him recalling his interactions with Jiraiya while looking at a prophetic writing known as the Red Moon Scroll left by him, throwing a kunai at Tobi and shattering the crystal ball, putting an end to the Genjutsu World.
Characters Edit
As a result of distortions in the Genjutsu World, the alternate reality counterparts for most of Konohagakure's shinobi have dramatically altered personalities and behaviours. Following is a list of characters and their alternate traits in the Genjutsu World, in order of appearance:
References Edit
↑ Naruto Stealth Volume: Road to Ninja, page 79