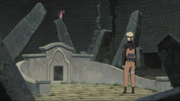 The Garden of Ryūmyaku is the place where Naruto Uzumaki appeared twenty years ago after he went back in time due to Mukade's time travel technique. While looking around the garden, he stumbled into the Queen of Rōran, Sāra, though she ran from him in fear. In the garden, the power of Ryūmyaku has no effect. Sāra takes the people of Rōran there to protect them from Mukade's attacks. This was also the place where they held Sēramu's funeral.
Ad blocker interference detected!
Wikia is a free-to-use site that makes money from advertising. We have a modified experience for viewers using ad blockers

Wikia is not accessible if you've made further modifications. Remove the custom ad blocker rule(s) and the page will load as expected.