Formation Ino–Shika–Chō are formations used by the members of the Yamanaka, Nara, and Akimichi clan members designed as a result of their long history of working together.
Usage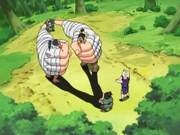 These formations are designed to use each member's abilities in the best way possible that complements the others'. This formation is usually done with flawless accuracy, which comes after working together — another testament of how close-knit the three clans are. This formation is not limited to any one specific technique of any of the clans but the respective clan members can use several of their respective clan's techniques in tandem to create different versions of this formation.
Variants
Trivia
Ad blocker interference detected!
Wikia is a free-to-use site that makes money from advertising. We have a modified experience for viewers using ad blockers

Wikia is not accessible if you've made further modifications. Remove the custom ad blocker rule(s) and the page will load as expected.