Synopsis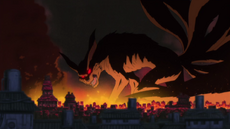 Twelve years before the start of the series, the Nine-Tails attacked Konohagakure, destroying much of the village and taking many lives. The leader of the village, the Fourth Hokage sacrificed his life to seal the Nine-Tails into a newborn, Naruto Uzumaki. Orphaned by the attack, Naruto was shunned by the villagers, who out of fear and anger, viewed him as the Nine-Tails itself. Though the Third Hokage outlawed speaking about anything related to the Nine-Tails, the children — taking their cues from their parents — inherited the same animosity towards Naruto. In his thirst to be acknowledged, Naruto vowed he would one day become the greatest Hokage the village had ever seen. Read more...
Latest Chapter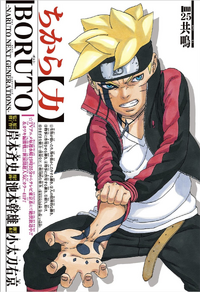 Kawaki jumps back, and attacks by extending his morphed arm. Garō jumps to evade it, and fires attacks from his gauntlet. Kawaki detaches the morphed portion of his arm, and runs from Garō's attacks. While running, Kawaki launches more morphed body parts as projectiles at Garō. The Konoha shinobi watch the battle, Katasuke noting that Garō's are usual scientific ninja tools, and interested in Kawaki's performance. Garō taunts Kawaki over his shortness of breath. Kawaki charges again, but Garō is able to block his attack, pin Kawaki down, and use a point blank blast against him. He picks Kawaki up, noting he'd have avoided the confrontation if he had just followed orders. Boruto wants to rescue Kawaki, but Konohamaru advises caution. From afar, Delta complains about Garō's methods, while Koji just continues observing. Read more...
Latest Episode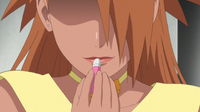 In her excitement about the kiss scene, Chōchō briefly loses control over her jutsu, returning to her true form for a moment. Sarada is impressed with Chōchō when she's done with hair and make-up. Chōchō wants to deliver Tomaru the perfect kiss in their scene. At the set, Inojin and Shikadai notice Chōchō is nervous, and Tomaru tells her to be herself. As they record the scene, Inojin quietly comments it doesn't look like true love, which the director agrees with, and decides to cut the scene. Chōchō is furious with Inojin. Meanwhile, Konohamaru and Moegi investigate the scene of the first attack, and find footprints. Sarada suggests Ashina they should postpone production, but she refuses. Between takes, Ashina makes suggestions for how Tomaru should deliver his lines, and it's revealed the episode they're shooting will be her last. Boruto and Sarada comment on the strange atmosphere at the studio. Read more...
Contribute to this Wiki!
Trouble getting started?
If you are new to wikis, check Help:Getting Started
Don't be afraid to just jump in and start it! Others can edit and improve whatever you write.
Check out the community portal to see what the community is working on, to give feedback or to just stop-by and say hi.
Help the wiki by editing article stubs or improving a random page.
Forum Activity
Please read the rules
before posting!
Have a question?
Ask it on Naruto Answers!
Poll
Who's your favourite Inner of Kara?
Did you know?
Naruto is one of the best selling manga of all time having sold more than 113 million copies in Japan?
In TV Asahi's latest top 100 Anime Ranking from October 2006, Naruto ranked 17th on the list?
Naruto: Shippūden has ranked several times as one of most watched series in Japan?
The Naruto anime adaptation won the "Best Full-Length Animation Programme Award" in the Third UStv Awards held in the University of Santo Tomas in Manila?
The Naruto anime was listed as the 38th best animated show in IGN's Top 100 Animated Series?
Masashi Kishimoto had the ending of the manga planned since 2006.