Synopsis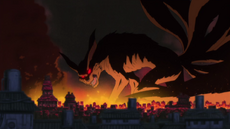 Twelve years before the start of the series, the Nine-Tails attacked Konohagakure, destroying much of the village and taking many lives. The leader of the village, the Fourth Hokage sacrificed his life to seal the Nine-Tails into a newborn, Naruto Uzumaki. Orphaned by the attack, Naruto was shunned by the villagers, who out of fear and anger, viewed him as the Nine-Tails itself. Though the Third Hokage outlawed speaking about anything related to the Nine-Tails, the children — taking their cues from their parents — inherited the same animosity towards Naruto. In his thirst to be acknowledged, Naruto vowed he would one day become the greatest Hokage the village had ever seen. Read more...
Latest Chapter
Kawaki dreams back to when Jigen adopted him. He remembers meeting Amado while watching a group of children in a growth apparatus. Jigen confirms to him Kawaki is the last child, reassuring Kawaki that if he accepts him as a father, he won't feel empty anymore, and that when they're truly parent and child, he'll give him a valuable gift. Kawaki wakes up in Konoha, with Naruto, Shikamaru, and Konohamaru in his room. Despite Naruto and Konohamaru trying to ease him, Kawaki immediately tries to escape, but is paralysed by Shikamaru, who assures him if they wanted to do anything with him, they'd already have done it. Naruto introduces himself to Kawaki, and thinks back to his earlier discussion with Shikamaru about the possible dangers of keeping Kawaki in the village. Naruto wants to personally oversee Kawaki, owning to his own experiences of isolation as a jinchūriki. Read more...
Latest Episode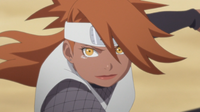 As shooting continues, Chōchō is still hurt by Tomaru's words, and discusses her self-image with Sarada. Tomaru and the director look through photos of Ashina's potential successors. Ashina refuses to have her mended dress back when Chōchō offers it to her. Ashina wants her character to have a meaningful death scene, but Tomaru and the director dismiss her suggestions. Ashina orders Chōchō to get her some water. The Amegakure assailant drops a flash bomb, and kidnaps Tomaru. Konohamaru chases him, but is stalled by one of his shadow clones. The assailant escapes through a route Chōchō should be covering, but had to leave to get Ashina's water. Shikadai and Boruto find it strange the assailant mentioned a ransom, when he previously issued a death threat. Konohamaru goes report to the Hokage. The ransom note for the production specifies Ashina is to deliver the money. Read more...
Contribute to this Wiki!
Trouble getting started?
If you are new to wikis, check Help:Getting Started
Don't be afraid to just jump in and start it! Others can edit and improve whatever you write.
Check out the community portal to see what the community is working on, to give feedback or to just stop-by and say hi.
Help the wiki by editing article stubs or improving a random page.
Forum Activity
Please read the rules
before posting!
Have a question?
Ask it on Naruto Answers!
Poll
Who's your favourite Inner of Kara?
Did you know?
Naruto is one of the best selling manga of all time having sold more than 113 million copies in Japan?
In TV Asahi's latest top 100 Anime Ranking from October 2006, Naruto ranked 17th on the list?
Naruto: Shippūden has ranked several times as one of most watched series in Japan?
The Naruto anime adaptation won the "Best Full-Length Animation Programme Award" in the Third UStv Awards held in the University of Santo Tomas in Manila?
The Naruto anime was listed as the 38th best animated show in IGN's Top 100 Animated Series?
Masashi Kishimoto had the ending of the manga planned since 2006.