Home
Talk

1k
5,727pages on
this wiki
NOTE: Due to the MediaWiki upgrade many lists on the site may appear incomplete such as new data on filterable lists. We do ask that you bear with us as the issues are addressed. For more information please see this blog post.
Synopsis
Twelve years before the start of the series, the Nine-Tailed Demon Fox attacked Konohagakure destroying much of the village and taking many lives. The leader of the village, the Fourth Hokage sacrificed his life to seal the Nine-Tails into a newborn, Naruto Uzumaki. Orphaned by the attack, Naruto was shunned by the villagers, who out of fear and anger, viewed him as the Nine-Tails itself. Though the Third Hokage outlawed speaking about anything related to the Nine-Tails, the children — taking their cues from their parents — inherited the same animosity towards Naruto. In his thirst to be acknowledged, Naruto vowed he would one day become the greatest Hokage the village had ever seen. Read more...
Featured Chapter
As Nagato tries to pull out Naruto's soul, Naruto realises Nagato is using all of Pain's powers in one body. Naruto asks Nagato how his techniques work, but soon realises Nagato is being fully controlled. Naruto tries to escape by attacking Nagato with a Rasengan but he absorbs it. B moves to help Naruto but Nagato sees the attack coming and captures B. Just as Nagato is about to remove Naruto's soul and kill B, Itachi saves them with his incomplete Susanoo. Kabuto remembers he has one more person to capture and has Nagato use Chibaku Tensei on all three of them. Naruto remembers the technique and tells B and Itachi about it. Itachi figures out its weakness and tells the others to use their strongest long-range attacks. As the sphere is destroyed Itachi stabs Nagato with the Sword of Totsuka, causing Nagato to regain consciousness. As he is sealed, Itachi tells him that if he had anything left to say he should say it now. Nagato tells Naruto that he is the last part of the three part legacy following Jiraiya — whose story was perfect, himself — which he deemed a failure. He then tells Naruto to make his story perfect so that everyone forgot his own horrible story.
Latest Episode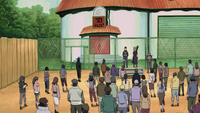 The genin question Neji's actions, to which his response is to send vibrations through the classroom walls to notify the other team-mates what question to answer. Sajin, not wanting everyone to pass, punches and kicks the wall a fifth time. Neji states it wouldn't matter how many times the walls are struck. Sajin tries instigating a fight but Shikamaru intervenes, reminding everyone of the time limit. As the genin finish their written tests, Shikamaru informs them of a second part. Read more...
Contribute to this Wiki!
To create a new article, simply enter the article title in the box below:
Trouble getting started?
If you are new to wikis, check Help:Getting Started
Don't be afraid to just jump in and start it! Others can edit and improve whatever you write.
Check out the community portal to see what the community is working on, to give feedback or to just stop-by and say hi.
Help the wiki by editing article stubs or improving a random page.
Recent Discussions
Did you know?
Naruto is one of the best selling manga of all time having sold more than 113 million copies in Japan?
In TV Asahi's latest top 100 Anime Ranking from October 2006, Naruto ranked 17th on the list?
Naruto: Shippūden has ranked several times as one of most watched series in Japan?
The Naruto anime adaptation won the "Best Full-Length Animation Programme Award" in the Third UStv Awards held in the University of Santo Tomas in Manila?
The Naruto anime was listed as the 38th best animated show in IGN's Top 100 Animated Series?
Poll
Who's your favourite reincarnation of Indra Ōtsutsuki?
Have a question?
Ask a question on Naruto Answers