Synopsis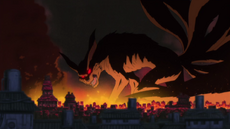 Twelve years before the start of the series, the Nine-Tails attacked Konohagakure, destroying much of the village and taking many lives. The leader of the village, the Fourth Hokage sacrificed his life to seal the Nine-Tails into a newborn, Naruto Uzumaki. Orphaned by the attack, Naruto was shunned by the villagers, who out of fear and anger, viewed him as the Nine-Tails itself. Though the Third Hokage outlawed speaking about anything related to the Nine-Tails, the children — taking their cues from their parents — inherited the same animosity towards Naruto. In his thirst to be acknowledged, Naruto vowed he would one day become the greatest Hokage the village had ever seen. Read more...
Latest Chapter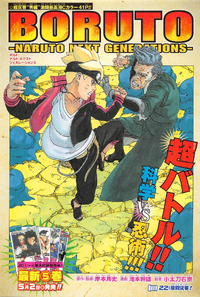 Boruto notes his wasn't a finishing blow. Ao notes his jutsu absorption arm has been destroyed and removes it. Konohamaru detects an incoming attack on Boruto, pushes him out of the way, and is hit by attacks from Ao's drones up in the sky, being knocked unconscious. Sarada and Mitsuki tend to Konohamaru. Katasuke surmises the drones are controlled remotely by Ao's chakra. Boruto comments how un-shinobi like Ao's fighting style is. Ao declares he's no longer a shinobi, having transcended into a new kind of human being, and sends the drones up in the air to attack. Mitsuki and Sarada retreat with Katasuke and Konohamaru, while Boruto absorbs the attacks with his jutsu absorption arm. Ao praises him for having pushed him so far into using the drones. Read more...
Latest Episode
Boruto wants to go after his father, but Sasuke stops him. Sasuke leaves to meet Naruto, and finds Naruto's old clothes on the street. At his office, Naruto berates himself for messing up Himawari's birthday as well. Shikamaru helps him handle the paperwork. Sasuke arrives with a scroll from Kaguya's palace. Sasuke recounts how he was attacked in Kaguya's palace by Kinshiki Ōtsutsuki, and asked about Kaguya by another Ōtsutsuki, who noticed Sasuke's Rinnegan, alarming Naruto and Shikamaru. Sasuke hands Naruto his old clothes he found on the street, and says he met Boruto. They discuss him, and the soul of shinobi. On his way out, Sasuke notices Boruto arriving. He obstructs Boruto, impressing him, so he asks to be Sasuke's disciple. Boruto explains how Naruto broke his promise to be there for his sister's birthday. Read more...
Contribute to this Wiki!
Trouble getting started?
If you are new to wikis, check Help:Getting Started
Don't be afraid to just jump in and start it! Others can edit and improve whatever you write.
Check out the community portal to see what the community is working on, to give feedback or to just stop-by and say hi.
Help the wiki by editing article stubs or improving a random page.
Forum Activity
Please read the rules
before posting!
Have a question?
Ask it on Naruto Answers!
Poll
Who's your favourite Ōtsutsuki antagonist in the Boruto anime?
Did you know?
Naruto is one of the best selling manga of all time having sold more than 113 million copies in Japan?
In TV Asahi's latest top 100 Anime Ranking from October 2006, Naruto ranked 17th on the list?
Naruto: Shippūden has ranked several times as one of most watched series in Japan?
The Naruto anime adaptation won the "Best Full-Length Animation Programme Award" in the Third UStv Awards held in the University of Santo Tomas in Manila?
The Naruto anime was listed as the 38th best animated show in IGN's Top 100 Animated Series?
Masashi Kishimoto had the ending of the manga planned since 2006.